Converting your thesis to a PDF file
---
PDF/A is an ISO-standardized version of the Portable Document Format (PDF) specialized for use in the archiving and long-term preservation of electronic documents. Theseus Open Repository uses PDF/A to preserve theses and publications. Read more about the PDF/A on National Digital Preservation page.
Convert the thesis to a PDF/A file. As a PDF/A file, the format and configuration of your thesis will remain exactly as you wanted.
In Windows Word convert a Word document into PDF/A as follows:
Select the File tab.
Select Export.
Then select Create PDF or XPS Document.
Click on Create PDF/XPS.
In the window that opens, determine the folder in which the file is saved. Give a file name that describes the content of the document.
Before clicking Publish, open Options.
Select both Document structure tags for accessibility and Document properties. By selecting these boxes, the heading identifiers (i.e. tags) and the title given to the file are transferred to the PDF file.
You should also select Create bookmarks using Headings. This facilitates moving within the PDF file.
Select PDF/A compliant.(ISO 19005-1 compliant PDF/A).
In older versions of Word you can create a PDF file with the Save as function. Make sure that you have selected both Document structure tags for accessibility and Document properties. Do not use the Print to PDF function! It does not create an accessible PDF.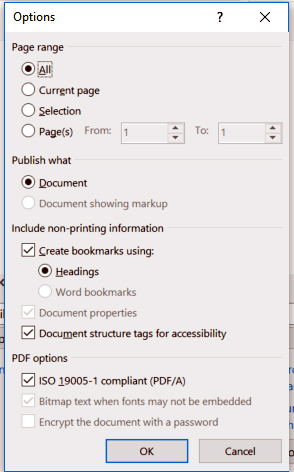 Please note: If you are using Adobe Acrobat Pro and your Word version contains the Acrobat PDFMaker function, make sure that you have selected the Convert document information and Enable Accessibility and Reflow with tagged Adobe PDF boxes in the Acrobat tab Preferences. Unfortunately, Word for Mac does not include a feature to save as a PDF/A.